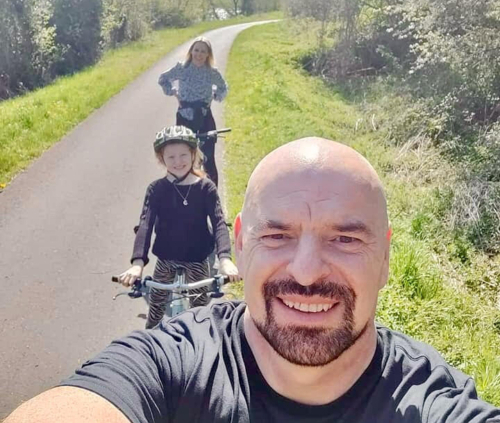 I ended up in Derry because I married a Derry girl, Joanne :-) .
We did not immediately settle in Derry – it took over twelve years for us to get there. The journey started in the UK, where we met, and which led to us living in many countries because we both worked in the airline industry. Apart from the UK, we lived in Germany, Dubai and Italy before the decision was made to make Derry our base. This decision was mainly due to the arrival of our daughter Lilianna, and the stability she would need around her growing up.
Derry was also my wife's choice due to her family being close and as I grew up in Ireland myself, I was more than happy to make it our home. I would still have to travel globally but there was no better base to have, especially due to the very good schooling available for our daughter. Derry, even though it has a turbulent past has risen out of the ashes, and is a very pleasant and friendly place to live. It has a lot of history and culture, and has a very warm welcoming feel to it. There is a lot of nature around that is easily accessible like forests, parks and beaches, which we always take full advantage of. The walled city itself has a lot of history attached to it and is filled with character… and everything is no more than a ten-minute drive away.
This is our main home, but we still enjoy others like Germany and Croatia and Doha where I'm based due to my job.
So, all in all Derry is a very nice place to live and bring up a family with plenty of activities so there's never a dull moment even with the weather.
By Vlaho Brbora
https://destinationderry.com/wp-content/uploads/2020/10/Vlaho-and-family-enjoying-a-great-quality-of-life.-e1602856183324.jpg
498
500
admin
https://destinationderry.com/wp-content/uploads/2020/07/destination-derry-logo-stretched-1030x323.png
admin
2020-10-16 13:50:03
2020-10-19 14:42:56
How I Ended Up In Derry!