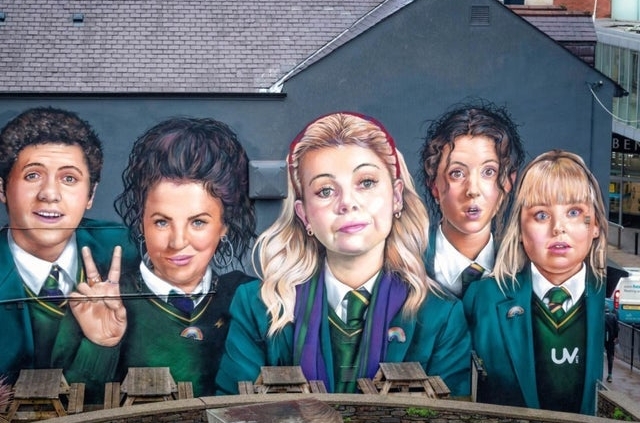 So, you want to blend in with the locals? Here's a few pointers to help you adapt to the ways of a proud Derry people and their endearing lifestyle.
Derry people have a unique and sometimes outlandish diet. It's not uncommon to see a local tucking into a sausage roll bap which in other parts of the world would seem preposterous. Bread overload poses no issue to a Derry native and don't get me started on gravy rings (sugared doughnuts).
The city itself has a wide selection of top-class takeaway restaurants, which the residents are only too happy to support. Weekend nights outside any city takeaway resemble the pandemonium of a black Friday sale, as hungry locals descend upon every available outlet in search of their food fix.
To be fair to the locals you haven't lived until your taste buds are left tingling by a Paulo's famous chicken box. If you are feeling truly adventurous then why not feast into a one-of-a-kind chicken box pizza which has become a stable part of many locals' weekend treat.
For many years the Derry people mocked themselves and their strong, sometimes inaudible accent. But to the pleasant surprise of our locals, reputable website lovin.ie conducted a poll which revealed that Derry's accent was in fact voted the sexiest accent in Ireland! With ex Girls Aloud band member, Nadine Coyle spearheading the charge, how were we ever going to lose?
The hospitality in this city is ever present as you will see whilst visiting any establishment. Whether it's fine dining in one of our many high-class restaurants, or popping into the neighbours for a friendly chat, you won't be disappointed. There is no problem too big or small, that won't be sorted by a hot cup of tea and a friendly ear.
The first most noticeable characteristic of the Derry folk is their unmistakable sense of humour and wit. The beauty of this city is people's ability to engage in banter, without taking it seriously.
The down to earth nature is obvious throughout, and god help anyone who develops an ego! People won't hesitate to remind you of your humble beginnings. All in all, the people here are a light-hearted genuine bunch who only have each other's best interests at heart.
The turbulent past is a constant reminder for people of this city that's life's too short and around every corner lies a new challenge. In doing so the people have developed a thick skin which in turn enables them to look at life's problems through a different lens. The attitude is simply summed up as: Live and let live.
Welcome to Derry!
https://destinationderry.com/wp-content/uploads/2020/10/Derry-Girls-image.jpg
454
640
admin
https://destinationderry.com/wp-content/uploads/2020/07/destination-derry-logo-stretched-1030x323.png
admin
2020-10-14 10:43:26
2020-10-19 14:46:20
Authentic Derry