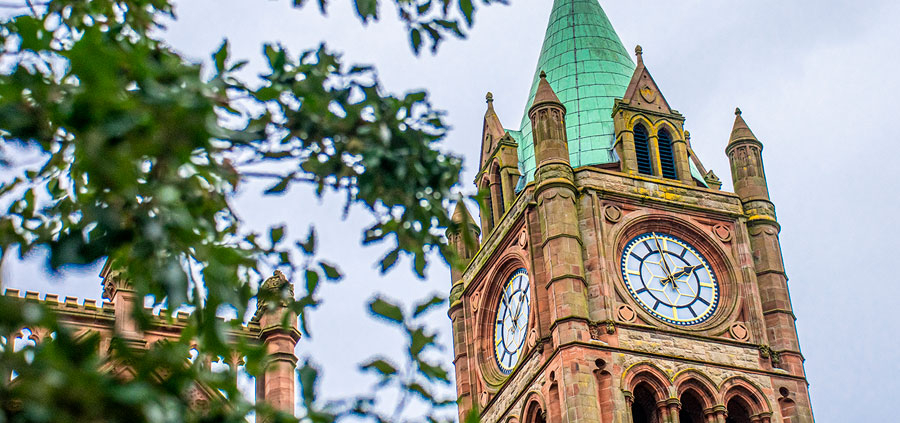 Escape from England – Destination Derry!
My partner and I had been looking to escape from England. We both lived in Northamptonshire – "semi" retired, in our 50's and looking for a better and more holistic lifestyle. My partner had spent some of her childhood on the outskirts of Dublin, moving permanently to England at the age of 19. I had never lived in Ireland but was aware of the natural beauty of the country and the charm of its people, who, as a Northerner, I had always found incredibly friendly. I had travelled to Ireland many times for business, usually Belfast and Dublin, with a few trips to Cork and Shannon and the obligatory stag weekends in Dublin. Only once, more than 20 years ago had I been to Derry on a brief business trip and it made such an impression on me that I had always wanted to return for leisure but never got around to it.
Nearing the end of 2019, we knew we wanted out of England and considered Ireland as a good potential destination, so we flew to Belfast on the 3rd January 2020 to explore. We had an insanely good time there, much better craic than you would find in England! We hired a car and headed through the breath-taking, rugged landscape to Derry where we stayed for 3 nights, enjoying a fabulous time in the local pubs and exploring the area. During our trip, we viewed a few houses at a new build development company in Culmore before flying home. Wow! We were so impressed by the location, quality and price of what was on offer – much better than anything in England! We knew that this is where we wanted to be.
Heading back to Belfast, we both agreed that we had experienced one of those moments in life where a different path suddenly illuminates.
I'm an impulsive individual who very much subscribes to the Richard Branson philosophy of "screw it, let's do it" and on the 10th January we paid the deposit on the house we fell in love with. Finalities came just 40 days later and we were here! We have a better house than we could have afforded in England and really lovely neighbours who have made us very welcome here.
I think Northern Ireland is a bit of a well-kept secret in England. People don't know much about what it's like here, which is a pity because it's such a unique place and very much a land of opportunity, particularly Derry, which is often overlooked.
Post-BREXIT Northern Ireland occupies a unique place in Europe. It is the only place in the UK with an open land 'border' to the European Union that we are now privileged to live less than a mile from. I like the idea of the best of both worlds. Derry is truly a special place, with a passionate and genuine people who appreciate quality and nature's bounty.
Derry is in a fabulous location at the mouth of the Foyle, right on the boarder of Donegal. In less than 30 minutes I can be on the Wild Atlantic coast of Ireland having driven through the Mamore Gap mountain pass. Seeing the patchwork fields and hamlets of the "Poitin republic of Urris" spread before, you would be forgiven for thinking you had entered The Shire from The Lord of the Rings. It is stunning! Likewise, 20Km gets you to Inch Island in Lough Swilly. Here, my partner was on the beach at the harbour one day with her 2 year-old granddaughter, who had also relocated to Derry with her mother at the same time as us. They were chatting to the Fishermen who were landing their catch and left with a complementary sample of their yield that I cooked. Fresh king and queen scallops and oysters and freely given with a smile; a perfect example of Irish hospitality. Also on your doorstep is the amazing Causeway Coastal route and Sperrin Mountains, with its eerie elevated pine forests calling to be explored.
The city itself is fascinating, with a rich history and sense of pride. It is a walled city full of character and has everything you need locally. The floral displays the council provide and maintain are fantastic, I have rarely seen healthier bedding plants nor more profuse displays. I never tire of the views of the Foyle with its ever-changing patina of colours as I drive into the city, nor the views of the Lough and mountains as I come back home.
To us, as runaways from England, we love it here. Everything is better and cheaper. The food is much better quality than we would get at home with organic, local produce being the norm. Even the roads are better maintained. We don't pay for prescriptions or water, unlike in England. We have community convenience stores here that actually are "proper" local shops where you can get anything you need at a reasonable price – like a takeaway 8 piece Ulster Fry breakfast for just £2.50, and where you will be made to feel welcome by the staff.
Derry is a great place. I know we made the right decision to move here and wish we had done so years ago, you would be doing yourself a great disservice not to come and see what's on offer.
Finally, we feel at home and look forward to the continuing journey of discovery that awaits us.
D & C, proud new Derry residents.
18 October 2020
https://destinationderry.com/wp-content/uploads/2020/10/guildhall-up-close-1.jpg
600
900
admin
https://destinationderry.com/wp-content/uploads/2020/07/destination-derry-logo-stretched-1030x323.png
admin
2020-11-19 10:44:18
2021-02-17 13:41:14
Escape from England – Destination Derry!