Destination Derry 'Connecting with Home' Event St. Patrick's Eve 2021
Destination Derry are a not-for-profit, collaborative social enterprise, aiming to raise the profile of Derry city and county as a great place to live, work, study and visit. Last Tuesday, on the 16th of March, Destination Derry held their virtual 'Connecting with Home' St. Patrick's Day event for Derry locals and diaspora. The event was a great success, causing a real buzz on social media and allowed people all over the world to celebrate the holiday together. There was diaspora from Saudi Arabia, Nairobi, Germany, London, America and further afield that were in attendance on the night, which highlights the importance of the event, as attendees were having to juggle different time zones in order to be there.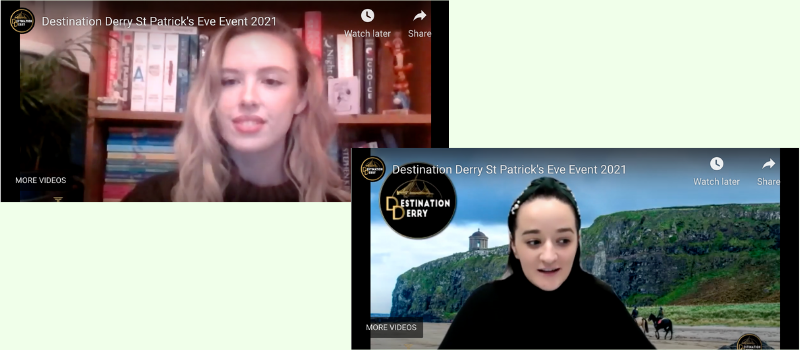 The night started with a welcome from the host Evelyn Mc Glynn, who then introduced Michael Taggart, CEO of Taggart Homes and Destination Derry. Michael thanked everyone for being there, saying, "this is something that was born, probably less than a year ago, this is our second event, we're very proud of it and in particular, we're very proud of our city and our county.
We want to bring more visitors here and show what a fantastic place Derry is to live and work." Michael then went on to talk about all of the great things on offer in Derry, saying, "we have so much to do in the county. We have hiking, walks, lots of fabulous hotels, restaurants and great, warm, friendly people." Michael's enthusiasm for where he lives was plain to see and it was followed by a video of him taking us on a journey across county Derry.
Rosalind Young from the Derry City & Strabane District Council shared some current news on all the positive things going on in the city, such as the rollout of vaccinations, businesses preparing for reopening and information about the £250m Derry city deal. She commented, "there's always been enormous pride in this city and many times we've talked about the city's potential and now we have the strategic growth plan and more importantly, the buy-in from all of our stakeholders and we're starting to see that investment now." A full reviewing of all things discussed on the night can be found on the video on the Destination Derry website.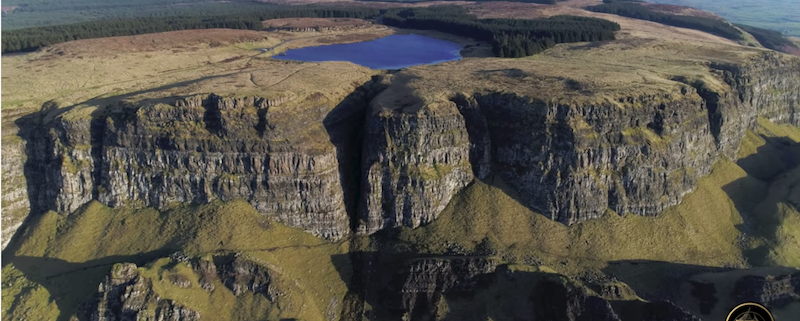 ---
The event was also aiming to shine a light on the Derry Diaspora and those thinking about relocating and one of those diaspora was Robert O'Dowd, Ulster University alumni and Director of Growth Strategy at Notable, a boutique consulting agency in New York. Aside from his professional development, Robert spoke about his years growing up in Derry, saying, "I was fortunate enough to be there when there was a real push for the City of Culture bid, where every other week there was another festival and things happening, so that was a tremendous moment to be a part of and to live through in Derry and it's just incredibly exciting to see what is now on the forefront of the Derry and Strabane district deal and it only bodes for more promising things to come, especially for people like myself who are maybe developing a view of how and when I may wish to try and relocate back home to Derry, while maintaining a bi-Atlantic presence."
Other highlights included traditional Irish music from Dearbhla Scallon and Moya Sweeney – students from Ulster University, nostalgic videos of previous St. Patrick's Day parades, a message from the Derry and Strabane district Mayor, Brian Tierney, guest speakers and the night concluded with an original poem, written and recited by Carla Fulton, an intern at Destination Derry and English Literature graduate from Ulster University.
The breakout rooms nearing the end of the event allowed people to connect and speak to others that were missing contact with people due to the pandemic and the feedback has been heart-warming, with one lady saying that St. Patrick's Day was always a day to look forward to with her family, so this year she had been dreading its arrival but because of the event, it helped her feel like she wasn't alone.
All in all the night was a great success, with almost 150 people booked, the team at Destination Derry done an excellent job at showcasing all that the city and county has to offer, while creating a space for people all over the world to come together and celebrate this special holiday.
Destination Derry are excited to work with local community and government bodies in the near future to host more events like this and they are encouraging all businesses to register for free on their website to promote themselves in time for restrictions lifting and the city reopening. Visit www.destinationderry.com to find out more and follow the initiative on social media to stay updated on future events.
Watch the replay video 
---
Join our email list below to receive up to date news & connections from Destination Derry
https://destinationderry.com/wp-content/uploads/2021/03/ST-Pays-Eve-Replay-Video-image.png
628
1130
admin
https://destinationderry.com/wp-content/uploads/2020/07/destination-derry-logo-stretched-1030x323.png
admin
2021-03-22 11:37:53
2021-03-22 17:50:56
Successful 'Connecting with Home' Event St. Patrick's Eve 2021